The organic and 100% pure essential oils of Lavender, Citrus Bergamia, Ylang-Ylang, Patchouli, or Chamomile help to eliminate the feeling of anxiety and stress of everyday life, more and more frequent in our society and which does not distinguish between age nor sex. This is an emotional imbalance that results in increased insecurity or worry, and on a physical level, it can cause changes in blood pressure, heart rate, and/or dizziness.
The use of aromatherapy – a holistic therapy that uses the properties and active ingredients of plants in their natural form – can be a tool to dispel the level of anxiety and stress, avoiding deeper disturbances in the Body, Soul, or Spirit.
The best way to use the essential oil in case of anxiety or stress is by inhalation because thus the information contained in the molecules of the essential oil quickly reaches the brain and can immediately begin to rebalance the emotions and feelings.
The use of an inhaler or diffuser, at home or in the office, is the most suitable instrument for rapid and effective inhalation. However, essential oils can also relieve anxiety and stress through massage (here the essential oil must be mixed with vegetable oil so that the skin absorbs all the properties and active ingredients of the essential oil) or when 'a relaxing bath. In this case, for an adult, you should mix up to 10 drops of essential oil, or mix several drops, in the bathwater. Alternatively, you can also use our bath salts, which are made from 100% pure and natural organic essential oils.
Discover the properties of five essential oils:
Lavender (Lavandula Officinalis) or Lavandula (Lavandula Hybrida) is a 30 to 60 cm high sub-shrub, native to the edge of the Mediterranean, which grows on slopes and mountains between 800 and 1800 meters. Wild or cultivated, lavender is a precious pillar of our flora, but also an essential base in perfumery, cosmetics, and aromatherapy, thanks to its incomparable sweet, floral and herbaceous aroma. Among the properties of lavender, the anti-infectious, anti-inflammatory, antiseptic, analgesic, healing, relaxing or sedative properties stand out. Its active ingredients will act on the nervous system, reducing anxiety, anguish, stress, sleep disorders, or negative thoughts. On a more physical level, the properties of this plant are beneficial in treating eczema, wounds, burns, dermatitis, acne, cough, phlegm, among others.
Citrus Bergamia (Citrus bergamia) is a tree of the orange and lemon family that reaches heights of between 3 and 4 meters and is mainly cultivated in West Africa, Italy, and Spain. Its fruit, from which the peel is extracted, has been widely used in Italian folk medicine, especially in Bergamo, northeast of Milan, in Lombardy, where it was widely used to fight fevers. Citrus Bergamia has anti-infectious, antispasmodic, sedative, and calming properties that act on the body to balance anxiety, restlessness, stress, insomnia, promote self-confidence, lightness, and joy. On the physical level, it is indicated for situations of psoriasis, acne, eczema, intestinal discomfort, constipation, among others. Citrus Bergamia has an intense, fresh, soothing, and relaxing floral aroma.
Ylang-Ylang (Cananga odorata) is a tree native to Asia, especially the islands of the Indian Ocean, topped with beautiful and large yellow flowers. Meaning "flowers of flowers", Ylang-Ylang was mainly used in Antiquity for its benefits on the skin. Today, its essential oil is particularly appreciated for its soothing effect, promoting the end of anxiety, stress, depression, anguish, insomnia, certain phobias, and frustrations, offering a feeling of security and inner peace. Some properties of Ylang-Ylang: antiseptic, hypotensive, antispasmodic, antidepressant, or sedative… On a more physical level, this plant is indicated for situations of impotence, tachycardia, hypertension, asthmatic bronchitis, or acne. Ylang-Ylang offers a floral, sweet, dense, and feminine aroma, with fruity and woody nuances, in an exotic style.
Patchouli (Pogostemon cablin) is a small tropical shrub about 50 cm high, dark green, and with evergreen foliage that is part of the Lamiaceae family. This plant offers properties such as bactericidal, antifungal, expectorant, anti-inflammatory, antiseptic, analgesic, antiallergic, healing, sedative, hypotensive, regenerating for the skin. This set of properties helps to curb anxiety, stress, anguish, stimulates courage, stability, and grounding, that is, it eliminates fears, tensions, and uncertainties. On a more physical level, it is beneficial to fight against varicose veins, hemorrhoids, cellulite, water retention, pre-menopause, yeast infection, acne, among others. Patchouli has a sweet, intense, and herbaceous smell.
Roman Chamomile (Chamaemelum Nobile) is native to Eastern Europe and the Middle East, but today it is widespread throughout Europe and colonizes abandoned land as well as untreated fields. Wild or cultivated species, Chamomile is harvested in summer, in full bloom. Chamomile is recognized for its analgesic, anti-inflammatory, anti-allergic, antibacterial, antispasmodic, and calming properties, which help to curb anxiety, stress, anxieties, intestinal spasms, insomnia. On an emotional level, Chamomile purifies the emotional and astral body and strengthens the intelligence of the heart. This plant has an intense, sweet, and floral aroma.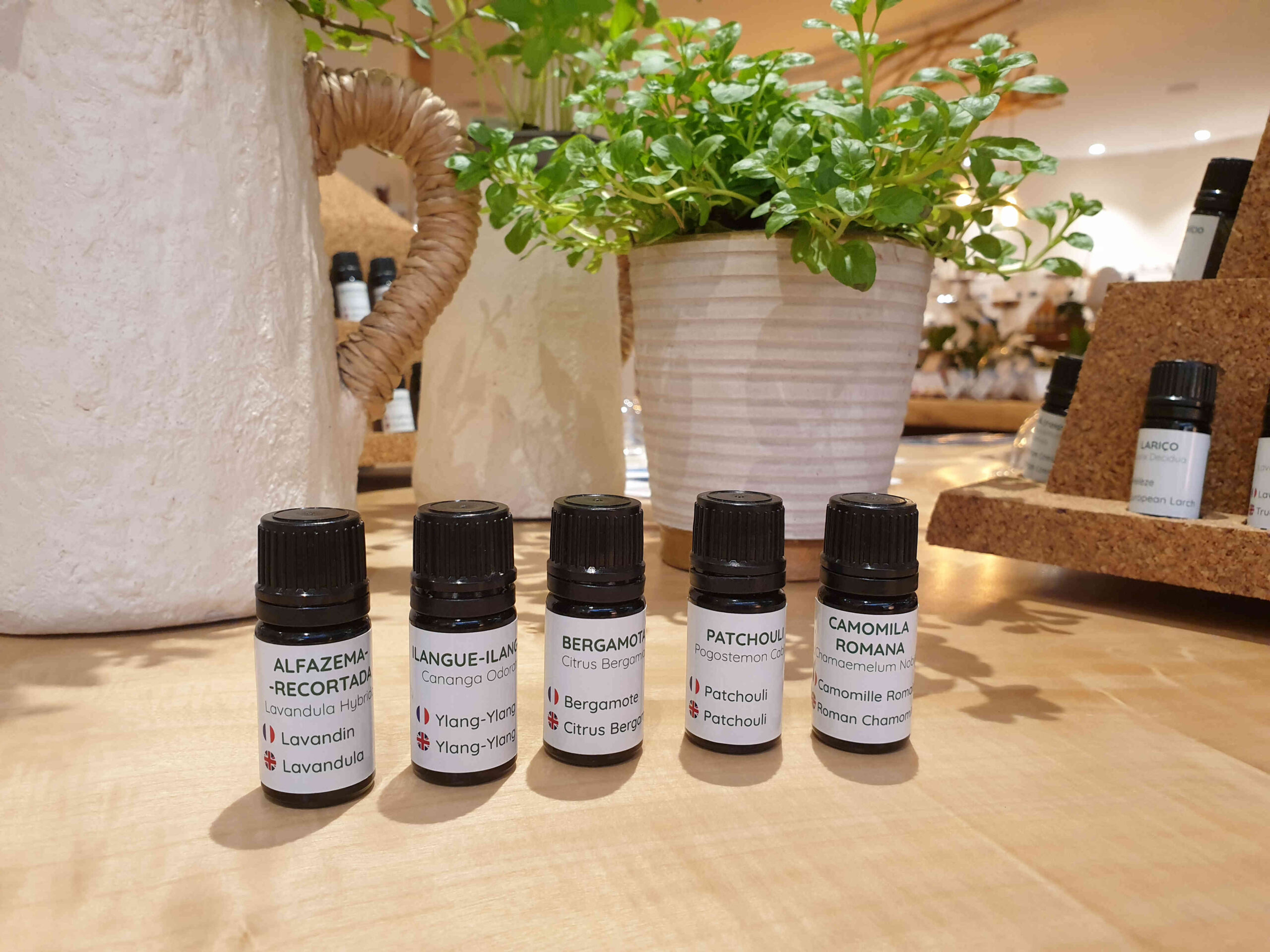 This text is an awareness and has been established on the basis of several works related to aromatherapy and its use traditionally recognized around the world. Depending on the season of the year and the moment in which you are, it is up to each Being to feel which essential oil to use. Essential oils are not dangerous products, but they are powerful and require careful and responsible use. For children, pregnant or breastfeeding women, follow the recommendations of a healthcare professional.
Know more about Essential Oils at:
Essential Oils and Hydrosols are the secrets of aromatherapy
Discover six essential oils to bring more energy to your day