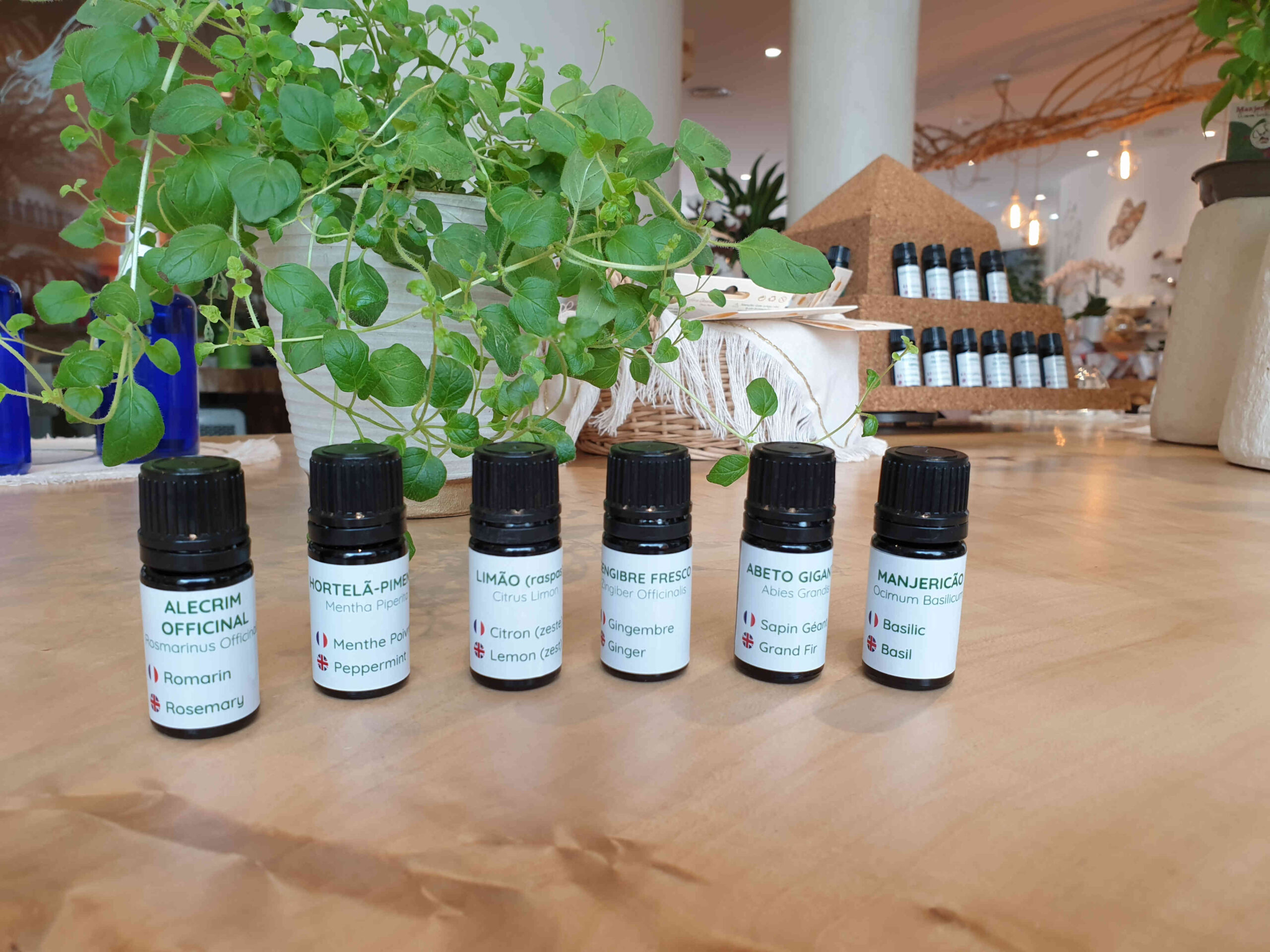 Being able to be focused, having clear thinking, being productive and creative are emotional states that require a high level of energy and we don't always have this charge in our "battery". Fatigue and daily stress often act as a brake on the extra energy needed to wake up the brain. But applying essential oils with a strong energizing base can do the trick.
The essential oils of Rosemary, Peppermint, Lemon, Ginger, Giant Fir or Basil – choose organic and 100% pure oils – could be the secret of a "magic trick" called aromatherapy, a holistic therapy that uses the properties and the active principles of plants in their natural form to awaken and animate feelings and emotions.
The advantage of using certified organic essential oils is to prevent pesticides and other chemicals from entering the body that can intoxicate and cause certain imbalances and trigger diseases. If they are 100% pure essential oils, two or three drops will be enough to take advantage of the properties and active ingredients offered by the plant.
Inhaling essential oil molecules will provide the body with stimulating, energizing or restorative properties, directly influencing our motor and psychic capacities. Emotions and feelings, such as willpower, dynamism, positive energy, joy or concentration, can thus be easily activated and stimulated.
The best method is to use an inhaler, a spray or a diffuser at home or in the office, although you can also get results from massage – the essential oil needs to be mixed with a vegetable oil so that the skin can absorb all the properties and active ingredients of essential oil – or by a bath. If the latter is your option, then mix bath salts made from organic, 100% pure and natural essential oils in water or, alternatively, add up to 10 drops of one of the six essential oils mentioned or make a mixture of some of them.
Discover now the properties of six essential oils:
Rosemary (Rosmarinus officinalis) is a highly branched sub-shrub of the Lamiaceae family with perennial foliage that grows wild around the Mediterranean. Rosemary is harvested from May to September and to make the essential oil, the flowering twigs are harvested, then dried for three days and only then distilled. The essential oil can be very different in its composition and effectiveness, depending on the variety and origin of rosemary. They are mainly monoterpenes, oxides and ketones, in varying proportions depending on the variety, responsible for the antiseptic, antispasmodic, diuretic, analgesic and muscle relaxant effects. The aroma of rosemary is sweet, herbal and slightly camphorated and provides energy that speeds up memory, curbs fatigue, stress or laziness and stimulates connection, intuition, clarity, willingness to learn and creativity. . On a more physical level, the properties of rosemary help with bronchitis, sinusitis, cystitis, dyspepsia and hypotension.
Peppermint (Mentha Peperita) is a perennial plant about 80 cm tall, widely distributed in Europe and Asia, especially at low altitudes. Peppermint oil has a minty, refreshing and herbaceous aroma and offers properties such as analgesic, anesthetic, antiseptic, antispasmodic, astringent, carminative, decongestant, expectorant, febrifuge, liver stimulant, stimulant, digestive, sweat, vasoconstrictor and dewormer. Its application is beneficial in cases of mental fatigue, stress, depression, excessive emotionality and stimulates mental alertness and improves concentration. On a more physical level, peppermint is beneficial for situations of liver failure, indigestion, dyspepsia, nausea, nausea, fatigue, migraine or eczema.
Lemon (Citrus limon) is the fruit of a small tree of the rutaceous family, measures less than 5 m in height and is native to China. Introduced to the Mediterranean in the 12th century and cultivated in Sicily from the 14th century, it is now totally globalized. Currently, Lemon is used to stimulate the natural defenses, balance the PH, as a general depurative, drain the liver and as a disinfectant in diffusion, thanks to properties such as detoxifying, antioxidant, immune stimulator, antiviral, antibacterial and diuretic. The use of lemon essential oil calms the nervous system, reduces mental fatigue, fatigue, anxiety, strengthens positive mentality, joy, concentration and reasoning. On a more physical level, lemon stimulates the immune system, fights infectious diseases, obesity, cellulite, hypertension, among others, in addition to being an air disinfectant. Lemon offers a fine, fruity, fresh and incomparable aroma.
Ginger (Zingiber Officinalis) is a perennial plant, of the Zingiberaceae family, which can reach a height of one meter, its green leaves are born from a hard underground stem, thick and full of irregular beige nodules. Ginger is also known as a healing agent because of its properties: antiseptic, analgesic, antiemetic, anti-inflammatory, bactericidal, carminative, detoxifying, stimulating … The application of ginger oil provides emotional confidence and courage thanks to its strong energizing and revitalizing energy. On the physical level, Ginger relieves digestive, respiratory and cardiac disorders, activates blood circulation, andropause, gas and rheumatism, among many other imbalances. This plant has a sweet, penetrating, warm and spicy aroma with hints of lemon.
Giant Fir (Abies grandis) is a large, conical, hardy and very fast-growing tree that belongs to the Pinaceae family. It is a native of temperate regions, widely distributed in mountainous regions of Europe, Asia and North America. Fir essential oils are extracted from its leaves and branches by distillation. The chemical composition of the different varieties of fir is very similar, and there may be aroma changes depending on the percentages of the respective active ingredients. Fir offers properties such as antiallergic, depurative and antiseptic, antifungal, bactericidal and antiviral. On an emotional level, the tree helps to overcome situations of depression, anxiety, fears, stress, in addition to being adapted to times of transition, such as moving to another city, a change of job and during times of mourning. On a more physical level, it fights deep fatigue and is also beneficial in cases of asthma, cough, rhinitis, bronchitis, sinusitis, allergies, renal, intestinal or skin imbalances, among others. The aroma of fir is fresh, slightly woody, with a grassy, ​​acrid and earthy background.
Basil (Ocimum Basilicum) is a plant native to India that has been acclimatized in Europe since Antiquity. This perennial herb can reach 50 cm in height and is generally cultivated as a condiment for salads, soups and meats throughout the Mediterranean or the more temperate regions of the globe. Basil is extracted by steam distillation from the leaves and their flowering juices, offering analgesic, antiviral, antidepressant, antispasmodic, carminative, digestive, emmenagogues, expectorants, febrifuges, insecticides, sudorific, tonic and stimulating properties. Basil essential oil is beneficial for depression and anxiety. This plant strengthens the feeling of confidence, helps to overcome insecurity, fear and worry and unlocks the vibratory vortex captured by the Solar Plexus chakra. On a more physical level, basil relieves headaches, migraines, spasms, cramps, digestive or nervous imbalances. The crushed fresh leaves also soothe skin irritations. Basil has a herbal, light and spicy aroma, and conveys a sweet, green note.
This text is an awareness and has been established on the basis of several works related to aromatherapy and its use traditionally recognized around the world. Depending on the season of the year and the moment in which you are, it is up to each Being to feel which essential oil to use. Essential oils are not dangerous products, but they are powerful and require careful and responsible use. For children, pregnant or breastfeeding women, follow the recommendations of a healthcare professional.
Learn more about essential oils at:
Essential Oils and Hydrosols are the secrets of aromatherapy