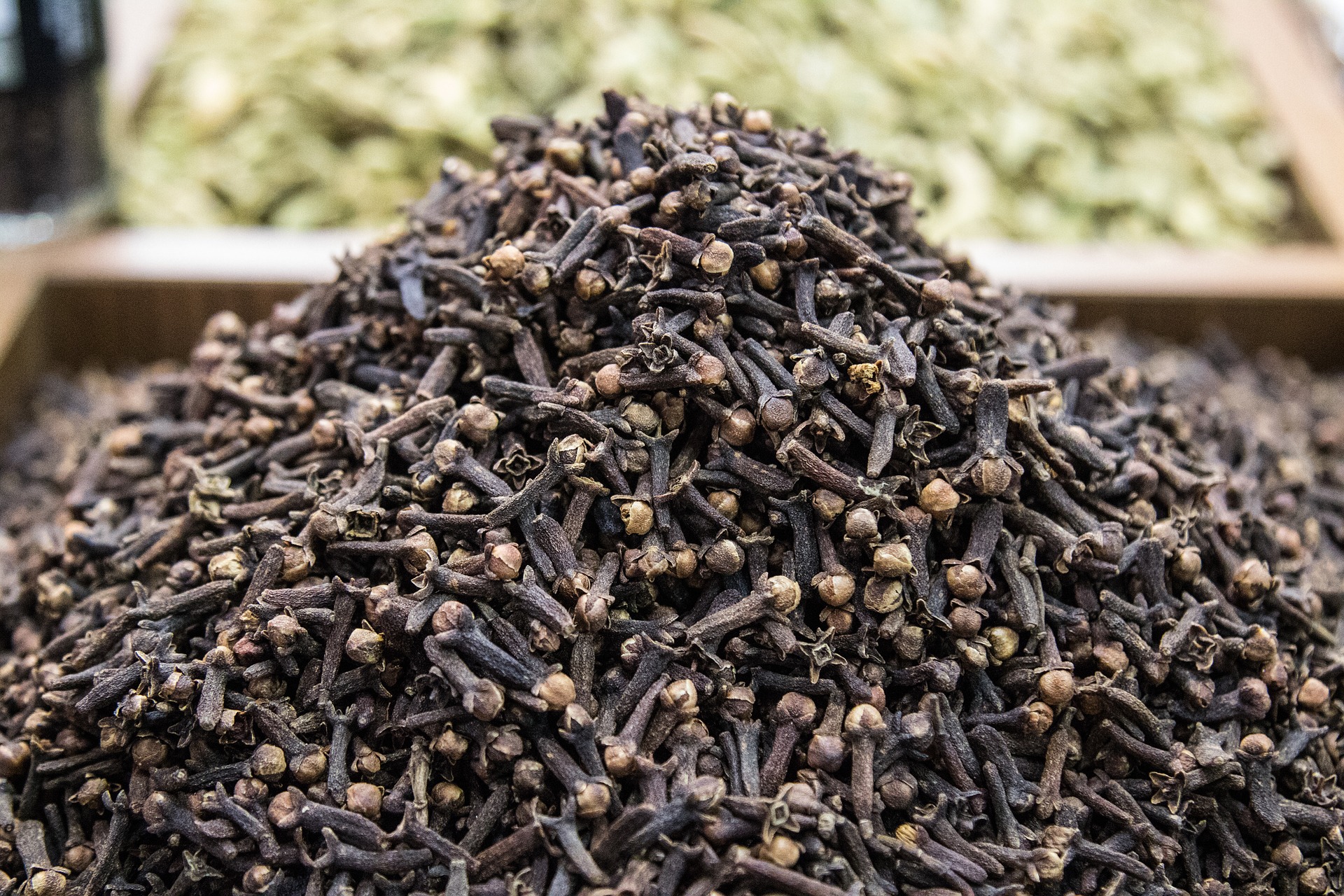 Clove (

Syzygium aromaticum

)
Plant:
Clove is the flower bud of the clove tree, native to the Moluccas Islands in Indonesia. This spice offers a pungent spicy aroma with hints of amber and astringent, in which it stands out for its unusual flower bud appearance and brown color after drying. Cloves are found in their natural form, which is very popular as a spice in cooking, drinks, but can also be consumed in powder, oil (normally only for external use), or also through cosmetics and other products. personal hygiene.
Properties:
Cloves offer antiseptic, healing, antifungal, antibacterial, anti-inflammatory, antioxidant, analgesic, aphrodisiac properties, among others. One teaspoon of cloves contains around 21 calories, one gram of carbohydrates, one gram of fiber and minerals such as iron, magnesium, calcium or potassium, and vitamins such as A, C, E, or K.

Benefits:
accelerates metabolism and digestion,

aphrodisiac,

helps to lose weight,

bronchitis,

scarring,

blood circulation,

cholesterol control,

degenerative diseases,

teeth ache,

muscle aches,

flatulence,

infections,

bad breath,

nausea,

skin, hair, and nails (using external essential oil),

cough…
How to consume:
Dried cloves can be eaten dry, in powder, or in oil (normally only for external use). In cooking, it is a spice widely used to season or to make broths, desserts, cakes or bread, but its properties are also used in the form of an infusion – in a little cold water put two or three cloves and after a few minutes add hot water for 10 minutes to make the infusion, let cool and drink. The pharmaceutical industry also produces many beauty and hygiene products with this essence. Clove oil is widely used, for example, to protect the skin, hair, nails, or massage. Cloves can also be used as an insect repellent, for example, try putting half a dozen cloves in half a lemon to keep mosquitoes away.
Contraindication:
Pregnant or breastfeeding women, children under the age of six, and people with gastritis, ulcers, irritable bowel, colitis, Crohn's disease, liver disease, epilepsy, Parkinson's, or other imbalances neurological. It is therefore important to be careful because each body is different and can create any incompatibilities, total or momentary, generated by its ingestion.
This text is an awareness. Depending on the season and the moment in which you are, it is up to each Being to feel whether he should consume this food. The dosage and frequency depend on the nature and physical condition of each Human Being.
Know more about spices on:
Seven indispensable spices in the kitchen